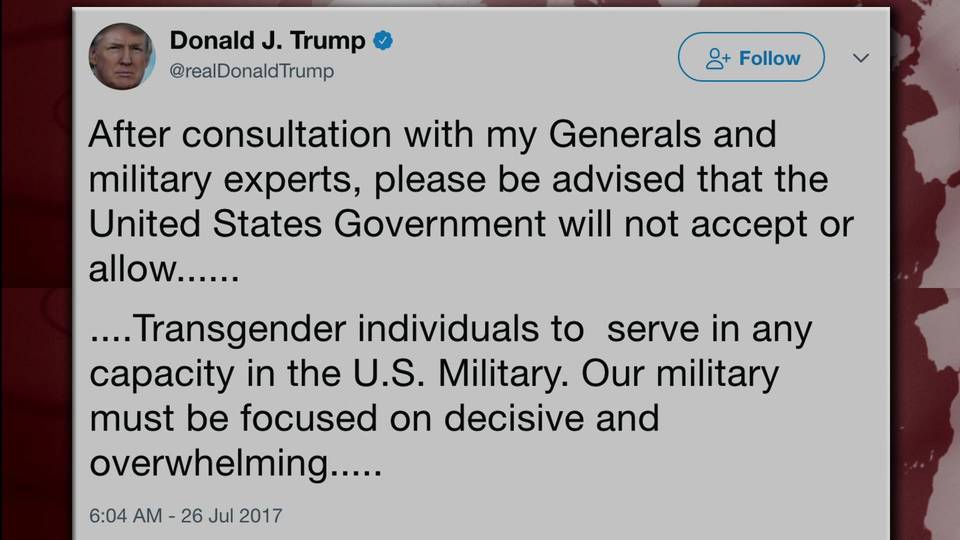 In a surprise announcement, President Trump tweeted Wednesday he would ban transgender people from serving in the U.S. military.  This is despite his pledge at the Republican National Convention last year that he would "do everything in [his] power to protect our LGBTQ citizens."
This is Mara Keisling of the National Center for Transgender Equality.
Mara Keisling: "Well, it seems that what the president is saying is that he is going to fire 15,000 highly trained, motivated troops. It is a catastrophe for military readiness. But it is just absurd that he would think to do this—and do it apparently without consulting the Pentagon."
Trump's announcement appeared to shock even the Pentagon, which has directed all questions about the order to the White House. Veterans Affairs Secretary David Shulkin said he learned of the policy change from Trump's tweet. It came after Defense Secretary James Mattis said last month he would give generals another six months to determine whether to allow trangender troops to enlist.
A study by the RAND Corporation estimates gender reassignment treatments would cost the military between $2.5 million and $8.5 million annually—a minuscule fraction of the Pentagon's $600 billion budget. By comparison, the total military spending on erectile dysfunction medicines amounts to 10 times as much annually.