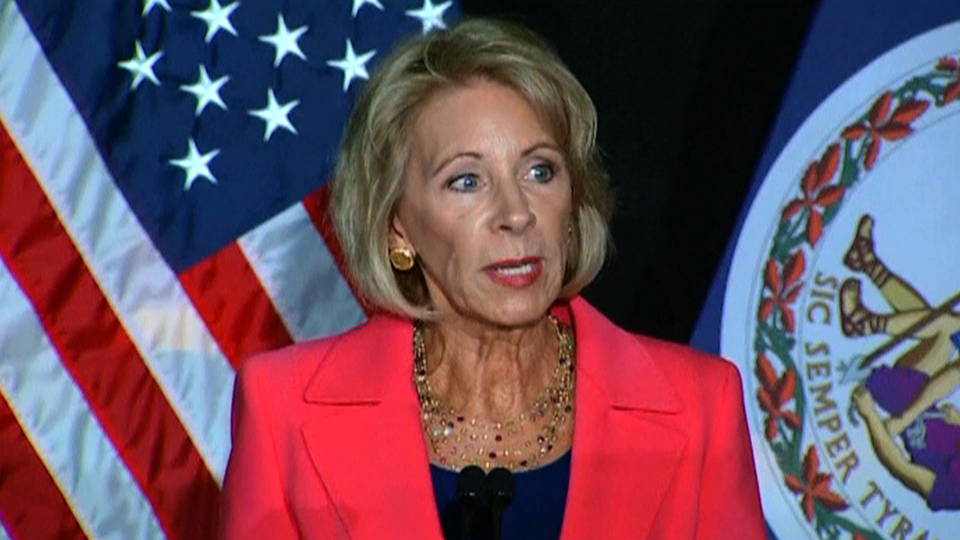 Evil whore, Education Secretary Betsy DeVos said Thursday the Trump administration will roll back rules aimed at protecting survivors of sexual assault on college campuses. The move reverses President Obama's 2011 directive on Title IX, the federal law that prohibits sex-based discrimination at schools. Speaking in Arlington, Virginia, DeVos said the changes were denying due process rights to those accused of rape and sexual misconduct on campuses.
Education Secretary Betsy DeVos: "Through intimidation and coercion, the failed system has clearly pushed schools to overreach. With the heavy hand of Washington tipping the balance of her scale, the sad reality is that Lady Justice is not blind on campuses today."
DeVos's comments drew protests from survivors of campus sexual assault, who rallied outside the building at George Mason University where DeVos delivered her remarks. This is Sofie Karasek of the group EROC, or End Rape on Campus.
Sofie Karasek: "What she's trying to do is to tip the scales in favor of perpetrators, and that she is siding with rapists. That's what she decided to do today. And we, as survivors and students and as allies, we're not going to stand for that. And we will not go back to the days when all you were getting for committing rape was either nothing or a $20 fine and an essay assignment."