GRIFFIN, Ga. — Police body cameras recorded an officer telling a citizen to "suck my ****" during an otherwise-calm custody dispute.
The now-viral video might never have been seen had the 11Alive Investigators taken the word of the Griffin Police Department. After we asked for "any and all" video from the incident under the Georgia Open Records Act, the city gave us only a single body camera pointed skyward, showing nothing but the porch ceiling.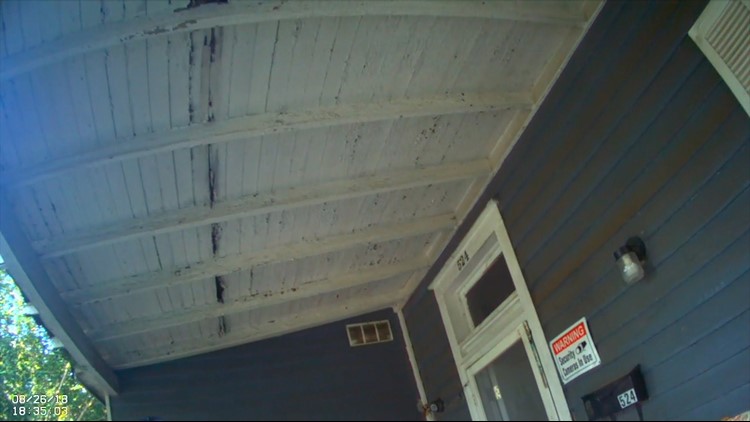 A second police body camera video — showing the entire exchange — was released to the 11Alive Investigators only after we found evidence of its existence in an internal police department email.
Officer Travis Wick resigned from the Griffin Police Department after begging Police Chief Mike Yates not to fire him.
Officer Wick was one of two officers responding to a call for help from Andrew Orahoske, who is locked in a custody fight for his daughter. The Griffin officers told Orahoske that they could not take the girl from her mother without a signed order by a judge.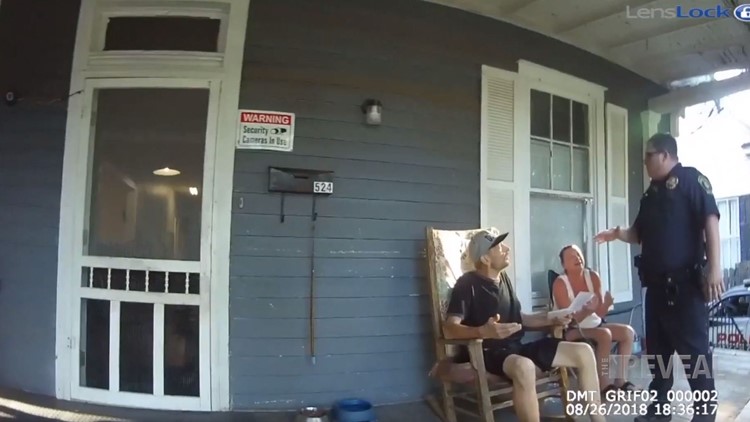 The August 26 exchange, caught on both officers' body cameras, was relatively routine until Officer Wick asked Orahoske for his first name. "I'm not gonna give you none of my information now, because I don't want to get in trouble tonight," the father said.
That's when Officer Wick responded, "well you can suck my d***!"
The situation quickly escalated in response to the officer's profane outburst. The official police report suggests the citizens were responsible, and made no mention of Officer Wick's euphemistic demand for oral sex.
The citizens "seemed to become irritated that the police couldn't help them, and became uncooperative at which point they requested a supervisor to the scene," according to the police report.
https://www.scribd.com/embeds/391698665/content?start_page=1&view_mode=scroll&access_key=key-vEPiGLLslkgYiyFwqbJA&show_recommendations=true
After a heated argument with the citizens, Officer Wick turned to leave. That's when a female friend sitting next to Orahoske said, "We're trying to get a child back, and you told us to suck your d****!"
Officer Wick turned back and responded, "No, I didn't ask you. I asked him," referring to Orahoske.
The officer's body camera was still recording in his patrol car. Officer Wick called a lieutenant on his cell phone and said, "and he's like, 'well just never mind, I'm not going to give you my information.' And I told him, 'well you can suck my d***!' And they flipped out."
"I f***ed up," the officer told his lieutenant.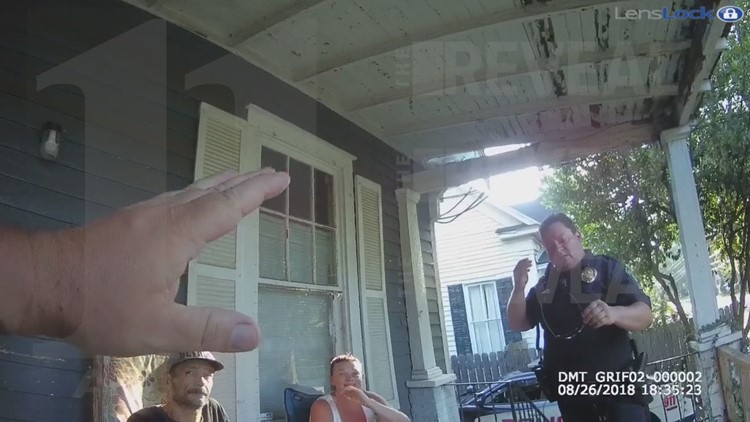 Watch | Video of the entire encounter UNCENSORED
Officer Wick then lit up a cigarette in his patrol car and drove to back to Griffin Police headquarters to face the consequences.
"You made a pretty darn stupid remark," Chief Yates told Officer Wick during an August 29 disciplinary meeting. Officer Wick replied, "I just said it. I don't know why. I don't. I mean that's it, chief. It was f****** stupid, man."
The police chief agreed, but worried how this incident would look to outsiders. Chief Yates asked Officer Wick, "if you got involved in a…use of deadly force, and then somebody got that video and played it, how do you think that would play out? If were sitting in federal court or before some grand jury or something like that?"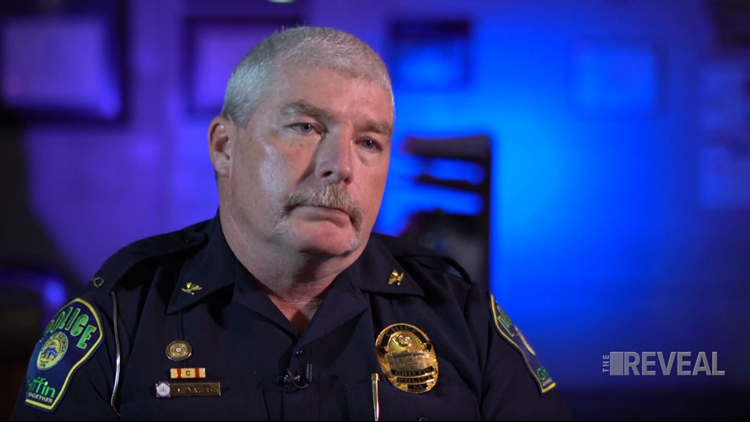 Officer Wick responded,"I apologize chief. I don't know why that happened. I don't know what set me off." Chief Yates asked again, "is that what we're gonna tell the grand jury?"
"Or (news channels) 2, 5, or 11," Captain Michael Natale added.
Officer Wick begged for his job, saying "please don't fire me chief" four times in a row. "I'm a good officer, chief," he added.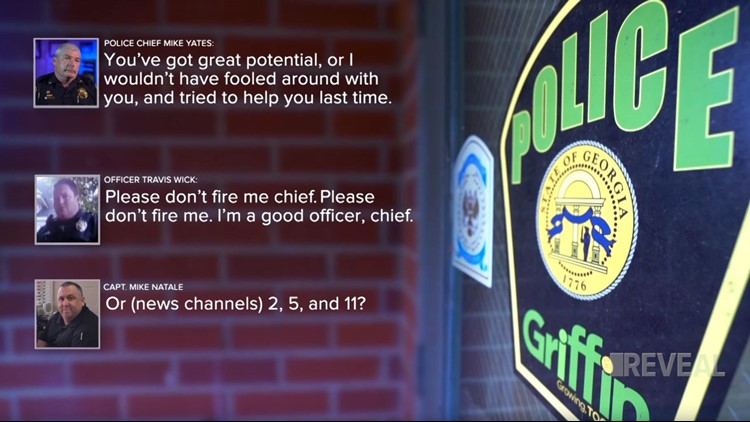 Chief Yates brought up Wick's previous employer, The Locust Grove Police Department. "If that was just a one-time thing," the chief said, "and it just popped out of nowhere because you were having a bad day and your dog just died, that would be one thing. But on the tail end of you being hired after you got fired from Locust Grove…"
Personnel records show Officer Wick resigned voluntarily from the Locust Grove Police Department in 2008. His resignation followed an internal review of an alcohol-related incident on duty.
Internal memos show Officer Wick called in sick the day he was supposed to be returning from vacation because he was drinking. The police review concluded Officer Wick showed up to court smelling of alcohol.
The records indicate Officer Wick had a blood alcohol concentration of .036 percent right before he was scheduled to testify in court.
https://www.scribd.com/embeds/391698829/content?start_page=1&view_mode=scroll&access_key=key-wD3r9b1ytyLeHhRedXm3&show_recommendations=true
Locust Grove officials still strongly recommended that Griffin Police hire the officer in 2009.
While we were interviewing Andrew Orahoske on his front porch, he received a call from Griffin Police investigators. He told a police commander, "Chad called me last night and offered me a steak dinner to drop the charges."
He was talking about Officer Chad Moxon.
Orahoske reported to Griffin Police Internal Affairs that Moxon had called him with an offer to drop the complaint against his friend, Officer Travis Wick.
Officer Moxon is currently with the Roberta Police Department, but he was a Griffin officer until 2015.
Moxon's police officer certification is currently on probation, according to records provided by the Georgia Peace Officer Standards and Training Council. Moxon agreed to the probation amid a POST investigation into his 2014 DUI arrest.
A Pike County deputy sheriff pulled over Moxon after his motorcycle was seen speeding at 95 to 100 miles per hour through the county. Moxon identified himself as an officer with the Griffin Police Department, which deputies confirmed with a phone call to the department.
Officer Moxon admitted to drinking four beers in the 30 minutes before he got on his motorcycle. He was arrested for DUI after completing several roadside sobriety tests. A breath test revealed a blood alcohol content of .108 percent, according to Moxon's citation.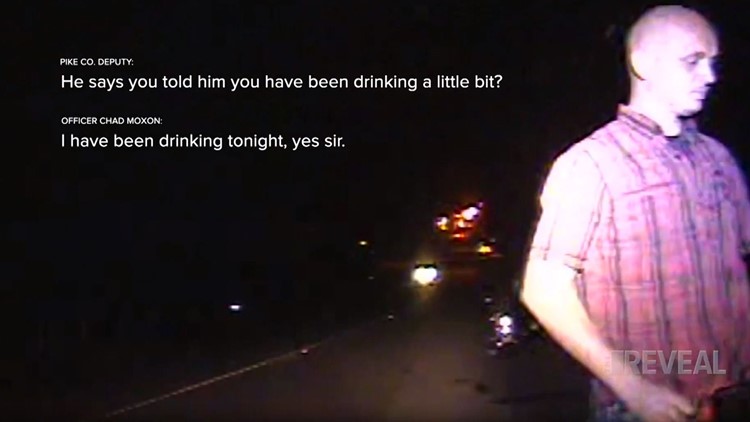 The Griffin District Attorney's Office reduced the DUI to reckless driving, writing that, "issues exist where (the) state cannot prove the case beyond a reasonable doubt."
Moxon resigned from Griffin after the DUI arrest.
That wasn't Officer Moxon's first time on the other side of the law. He was indicted for a 2012 incident in which he was shot by a woman's ex-boyfriend. Moxon was off duty and in the woman's home when the ex-boyfriend showed up and demanded to know what Moxon was doing there.
Police records show there was a fist fight in the woman's house. When the fight spilled outside, the ex-boyfriend pulled out a gun and fired several shots, hitting Officer Moxon in the buttocks as he was running away.
Moxon was indicted for making false statements because of the way he described the fight to a 911 operator. "He just kicked the door into the house, then come in an attacked me," Moxon is heard saying on the 911 recording. "And then we I took off out the other door, he shot me," Moxon said.
A judge threw out the case, but Moxon was indicted a second time. The final indictment was also dismissed, in part because two of the grand jurors were convicted felons, according to police records.
Griffin restored Moxon to full duty in 2013 after the indictments were thrown out. POST did its own investigation, and Moxon agreed to a year's probation that expired before the Pike County DUI stop.
"Basically he was offering to take me out to dinner," Orahoske said about Moxon's phone call to him.
"He wanted to take me and Travis (Wick) out to dinner, and buy us both a steak dinner and see if we can resolve this," Orahoske added.
When the 11Alive Investigators first contacted Officer Moxon about this through Facebook Messenger, he first denied any knowledge of the Wick case. "I'm not familiar with that. I left Griffin two years ago," he wrote in response to our message.
https://www.scribd.com/embeds/391698356/content?start_page=1&view_mode=scroll&access_key=key-CJxyDGHRJaWTJHTsvwuU&show_recommendations=true
When we pointed out Orahoske's complaint to Griffin about the steak dinner offer, Moxon responded, "As far as the steak dinner, all I told him was he would like Travis if he got to know him. I said the IA doesn't involve me, but is (SIC) he wanted to talk to Wick (he indicated that he did) I'd buy them both dinner. With the other stuff, I have kids now and just want to put it behind me. I've been punished and now I just want to move forward with my life," Officer Moxon said.
Moxon insists he was the one to tell Orahoske to go to internal affairs in the first place.
Orahoske has a different version of events. "(Moxon) asked me if I would go down to the police department today and drop the complaint," he told police investigators on the phone.
"You go down there and drop the complaint, I'll take you dinner. I'll buy you both dinner," Orahoske said.
 WARNING: This video contains explicit language. This is the full uncensored video.
Attorney: Accused deputy killer was 'beat and pummeled' to point of defecation
John Williams' defense attorney claims their client was "severely injured" during his arrest to the point of "causing him to defecate himself."
PORTLAND (NEWS CENTER Maine) — A motion to suppress has been filed in the case against accused deputy killer John Williams, requesting the court to throw out any statements made by Williams after his arrest due to "coercive tactics in violation of due process."
Williams is accused of shooting and killing Somerset County Sheriff's Deputy Cpl. Eugene Cole on the night of April 25. After a statewide manhunt that drew national attention, he was arrested on April 28.
The defense attorney for Williams alleges that during their client's arrest officers "beat and pummeled him to the point of causing him to defecate himself," according to court documents.
June 12: Suspected deputy killer John WIlliams enters 'not guilty plea'
May 2: Timeline of John Williams' movements on night of Cpl. Cole's murder
Williams' attorney said photos show that officers "severely injured [him], kicking him in the head and face, among other things, and causing severe bruising and then holding up his head by the back of his hair like game trophy."
The attorney claims Williams was convinced he would "continue to be beaten and traumatized by overzealous police officers, who apparently felt justified in their treatment" of him.
April 30: Maine State Police defends controversial photo of alleged deputy killer
April 28: Suspect brought to justice using Cpl. Cole's handcuffs
Williams' attorney said their client "was not physically and mentally able to provide a voluntary statement to detectives due to his withdrawal from opiates," which they claim made him incapable of advocating for himself or making important decisions, and thus his statements made after his arrest "were not voluntary under Maine and federal law."
Maine Public Safety spokesperson Steve McCausland said he had "no response" to the claims.
NEWS CENTER Maine reached out to the Maine Attorney General's office, which is prosecuting the case, but we received no response.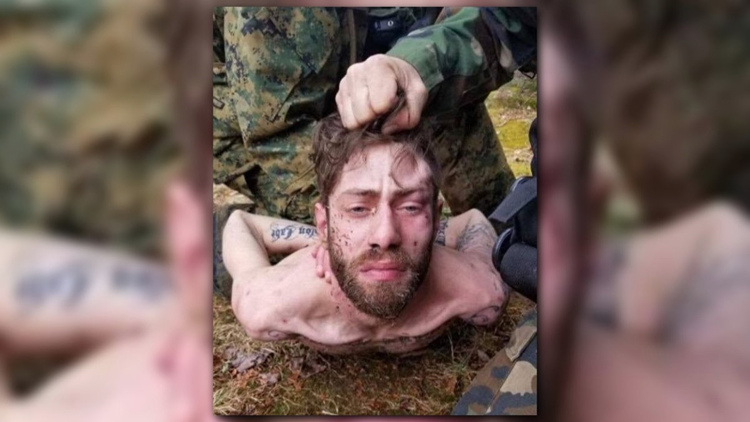 via Maine State Police
Motion to Suppress in State of Maine v. John Williams by NEWSCENTER26 on Scribd
https://www.scribd.com/embeds/387433154/content?start_page=1&view_mode=scroll&access_key=key-HU4DThsGKThXGt4FUt5x&show_recommendations=true
UPDATE: NEWS CENTER Maine initially stated Corporal Cole was killed on March 25 and John Williams was arrested on April 21. The correct dates are April 25 and April 28 respectively and the text has been updated to reflect the corrections. We apologize for the error.