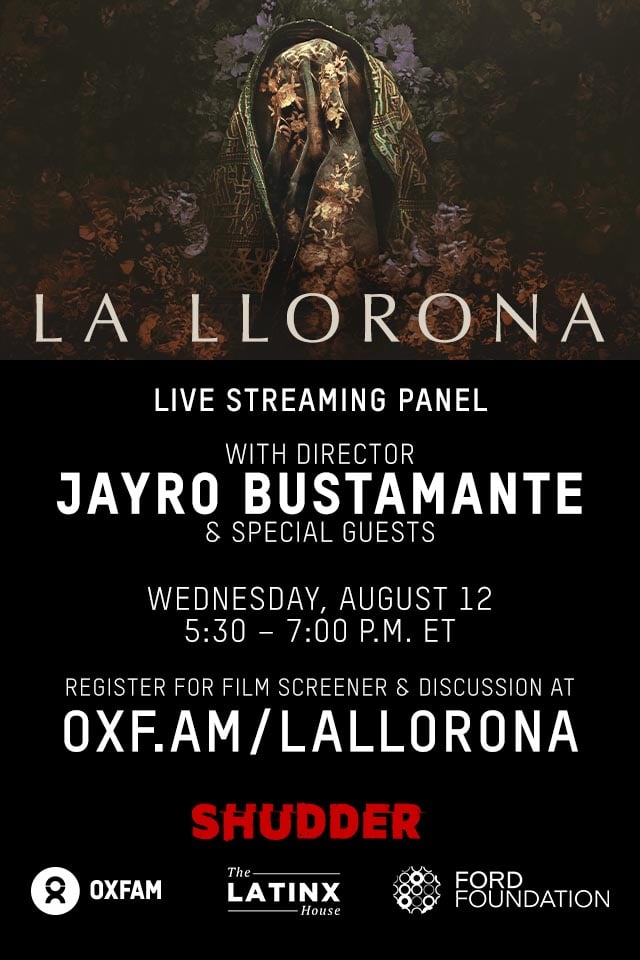 Oxfam is honored to partner with filmmakers who are devoted to expressing the truth about the human impact of issues like climate change, migration, and inequality. We believe in the power of stories to inspire compassion and mobilize action.
You are invited to a virtual panel "Horror storytelling as activism? LA LLORONA whispers truth on inequality, injustice, and the human condition" Wednesday, August 12, at 5:30 p.m. ET. Moderated by film critic Claudia Puig, panelists include LA LLORONA director Jayro Bustamante, producer Gustavo Matheu, Nobel Peace Prize Laureate Rigoberta Menchú, Head Programmer at Mexico's Morbido Fest Abraham Castillo, The Latinx House co-founder Alex Martinez Kondracke, Oxfam Guatemala Country Director Ana María Méndez Libby, Guatemalan Congresswoman Lucrecia Hernández Mack, and Shudder Director of Programming Sam Zimmerman. When you register, you'll receive information on how to stream the film on your device in advance of the discussion.
A tale of horror and magical realism, LA LLORONA reimagines the iconic Latin American fable of a grieving indigenous woman seeking revenge for the deaths of her children, as an urgent metaphor of Guatemala's recent civil war which left an estimated hundreds of thousands dead, missing, and displaced. The bloodiest period was under the rule of Efraín Ríos Montt, from 1981 to 1983. LA LLORONA broaches difficult subjects of historical memory, truth and reconciliation, and transitional justice with rigor and empathy.
Click here to watch the trailer for LA LLORONA.
Together with our partners and you, we're building a powerful network in the US and Guatemala to mobilize people to take policy and fundraising actions to fight the exploitation of indigenous cultures, gender-based violence, and inequality.
Don't miss this exclusive opportunity to take action through the art of film.
Thank you for your commitment to affect change with us.
Sarah Kupovykh
Oxfam